Flash Forest is evening the odds in the fight against climate change
5 min read
October 20, 2022
Every year, humans release more than 51 billion tonnes of CO2 into the atmosphere. And currently, the fastest and cheapest way to capture carbon is to plant trees.
That's why a Vancouver- and Toronto-based reforestation startup is on a mission to plant more than a billion trees by 2028 -- and do it through a faster, cheaper, and more efficient process.
Current reforestation methods primarily rely on manual labor to replant trees. Flash Forest uses unmanned aerial vehicle (UAV) technology and automation to plant trees at a rapid pace. Their drones have the ability to plant trees in previously inaccessible areas and operate in a range of weather conditions, allowing them to plant throughout the whole year. The company aims to plant trees at 10x the normal rate while significantly increasing accuracy, safety, and cost savings in the reforestation industry.
Flash Forest has caught the eye of both the local and international tech communities with its novel approach to reforestation. They were a Top 10 finalist in the 2021 New Ventures BC Competition, recognized in Cleantech Group's 50 To Watch, and landed mainstream media coverage in Forbes, Fast Company, and The Washington Post.
We sat down with the team at Flash Forest, including Bryce Jones (CEO), Cameron Jones (COO), Angelique Ahlstrom (CSO), Kaleigh Bruijns (Brand and CRM Coordinator), Quirin Hohendorf (Senior Plant Scientist) and Marc Apduhan (Innovation and Business Development Manager), to learn more about how the company is accelerating reforestation and fighting climate change across the globe.
Tell us about Flash Forest. What do you do and why did you start the company?
FF: Climate change is one of the largest existential threats we face as a species and we're quickly losing one of our best mechanisms for combating it naturally -- trees in biodiversity.
Trees are amazingly efficient at carbon sequestration, with each tree averaging 1-2 tonnes of CO2 eq. The Earth had 6 trillion trees pre-human civilization and now we have 3 trillion, totaling a net loss of approximately 20 billion trees each year (that's the size of Japan every year!). Tree planting is still largely executed by hand and shovel and with the growing demands each year, we simply can't keep up.
Flash Forest uses drone systems, AI, and sophisticated seed pod technology to scale the rate of global restoration and ecosystem regeneration. Bryce Jones, Cameron Jones and Angelique Ahlström founded Flash Forest back in 2019 through a successful Kickstarter. Marc Apduhan joined shortly after to help lead the Innovation and Business Development for Flash Forest, assisting in government-industry collaboratives, digitization and strategy, and piloting the drones during planting season.
Using a combination of Remotely Piloted Aircraft Systems (RPAS), Geographic Information Systems (GIS), and plant science technology, we are now able to restore habitats and restore forests faster, safer, and in a more biodiverse way than the traditional methods. This allows us to create a significant impact on the natural world with our nature-based solution.
At the moment, we are currently addressing the serious problem of forest fires across the globe and restoring ecosystems devastated by wildfire, which are typically unsafe and uneconomical for humans to plant.
How does your product accelerate the rate of reforestation?
FF: Our sophisticated drones contain deployment systems that inject seedpods into the ground at a rate of at least five pods per second. These proprietary seedpods are packed with seeds, nutrients, water-retention polymers, and other elements that accelerate the rate of germination and help support growth into seedlings during the critical first few months of life.
Additionally, the drone reforestation approach is significantly safer, especially in post-wildfire areas where falling trees are dangerous to humans. This technology allows us to plant in areas inaccessible by human tree-planters that otherwise would not be restored.
Our software also allows us to properly plan which species to plant across each site to promote biodiversity and enhance ecological resilience.
The demand is significant, but our technology has the capacity to accelerate ecological restoration.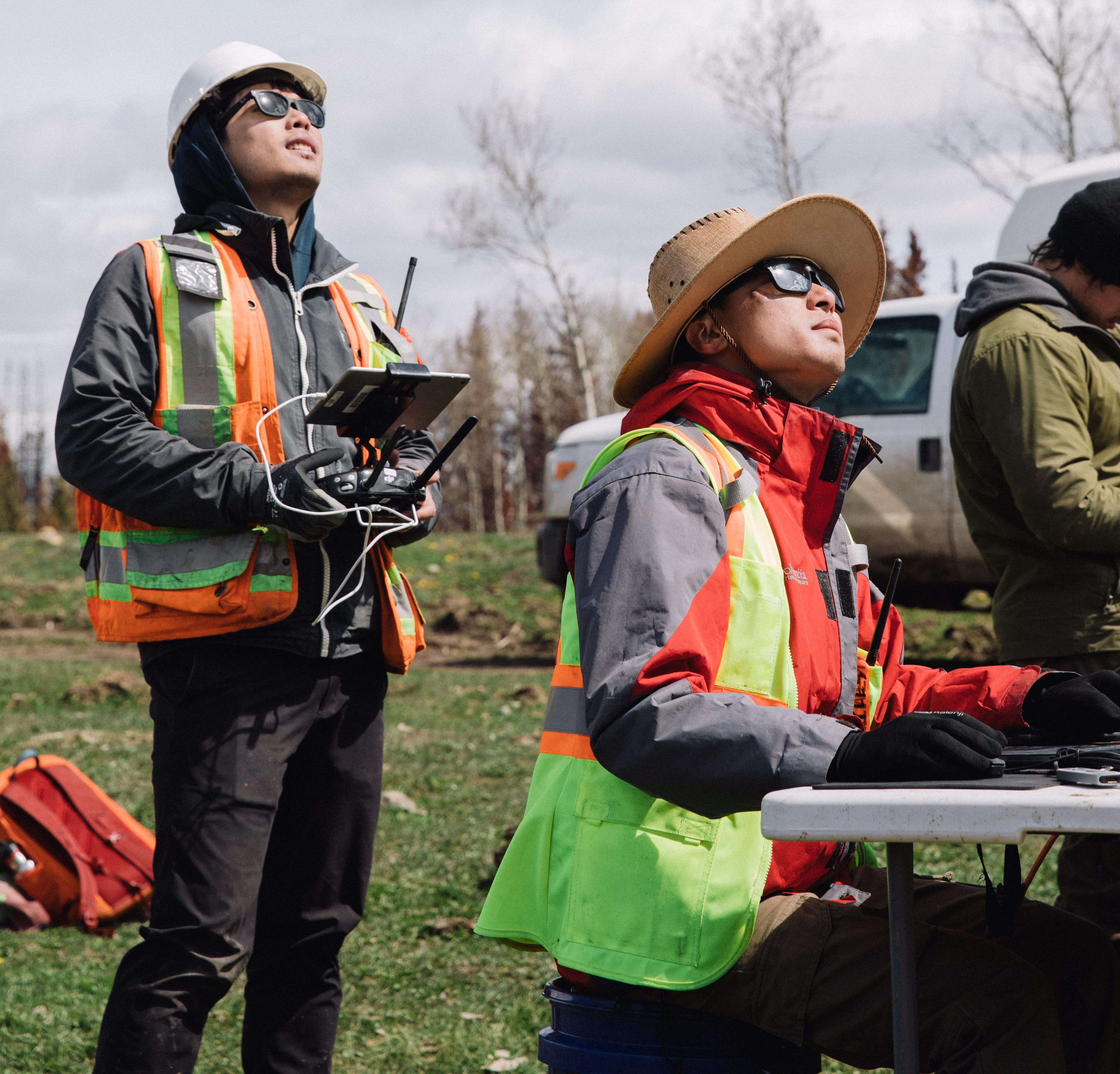 Flash Forest has received several hiring grants from Innovate BC, and most recently the Ignite Award. Can you tell us how the funding is helping your company?
FF: Working with Innovate BC has been instrumental in building Flash Forest's highly skilled team and its essential first years as a company. Our first 4 co-op students were hired through Innovate BC's program, and they assisted in the development of our drone seedpod deployment mechanisms. artificial intelligence auto flightpath, and obstacle detection using machine learning.
Marc Apduhan joined Flash Forest through the Digital Skills For Youth Program, with a background in Chemical Engineering from the University of British Columbia. He brings forward various government planting programs across BC, Canada, and globally.
Recently, Flash Forest received Innovate BC's Ignite Award, collaborating with UBC's Dr. John Innes, to help bring forward the next state-of-the-art iterations of seedpod technology, aerial deployment mechanisms, and AI for obstacle detection and manufacturing technologies.
Our technology requires testing across various sites, so it's imperative that we work together with UBC's Dr. John Innes and his team. They provide us with essential silviculture experience, test sites across various biomes, and partnerships with various organizations including indigenous groups, governments, and social and environmental-focused organizations.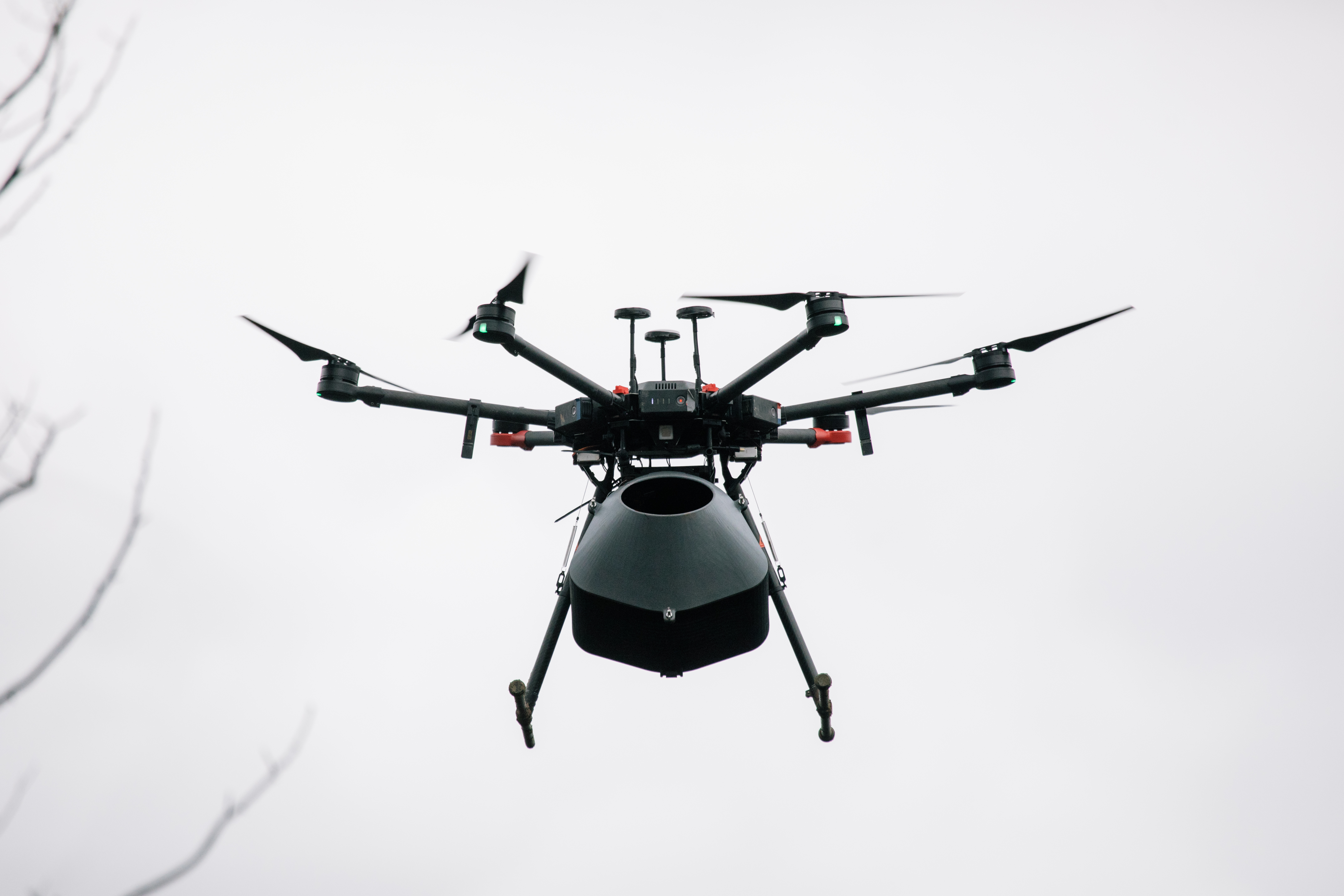 What are some of the challenges you faced while commercializing your technology and how did you overcome them?
FF: There are challenges when it comes to introducing new technologies, even when you're fighting climate change. There is also an added level of difficulty when the majority of our work is remote. Drone technology is very new, and our payload systems, electronics and software is developed internally, so maintenance and upkeep is done in-house. Seedpod technology is very new and there's no blue print for how to do it, so new recipes are continuously being developed. As trees grow particularly slowly, it often takes months to test and validate new recipes in the lab and greenhouse. Machine learning and artificial intelligence are rapidly evolving tools that we can use, but sometimes what we want either doesn't exist yet and needs to be built from scratch or doesn't make sense economically.
The majority of our scientists, engineers, strategists, and technologists have had to be innovative in order to overcome problems. Trees also take time, so sometimes taking a step back means months of work is sacrificed in order to pivot intelligently. Secondly, institutional inertia can be a challenge in terms of commercial adoption. "That's just the way we've always done it" is a challenge all established businesses and industries must address in the face of innovation, especially when faced with a significant departure from well-established practices.
However, the support has been overwhelmingly positive – we have academic partners, government partners, corporate partners, universities, NGOs, private and public landowners, and everyday people that have contributed to the mission. Every day we receive support in our inbox. The fight against climate change, deforestation and biodiversity loss is something that everyone can take part in, directly or indirectly.
What's next for Flash Forest? Are there any updates on the horizon?
FF: Exciting things are on the horizon for Flash Forest! We are currently in the midst of our Series A funding round which has connected us to some amazing climate-forward investors and given us the ability to move forward at a capacity we would not have been able to otherwise.
Each year we have been planting trees across Canada and scaling efforts have been consistent at 10x, allowing us to reforest even more post-burn landscapes.
We've also partnered with some major organizations… but we'll save that update until the official announcements are made!
Discover how you can commercialize your research and accelerate go-to-market through our Ignite Program. Eligible projects can get up to $300,000 for R&D.