Recap of the First-Ever Funding + Innovation Showcase #IGNITE: Accelerating your Path to Commercialization
11 min read
October 24, 2023
On September 25 at the Vancouver Convention Centre, Innovate BC brought together an intimate group of industry, academia, and investors to forge partnerships and spark ideas to address the economic, social, and environmental problems that British Columbians face. This one-day innovation and funding showcase featured inspiring speakers and sessions, networking and pitching, and the announcement of over $1M in funding through our Ignite program.
Here's a recap of what happened.

L to R: Naina Sloan, Pacific Economic Development Canada; Angie Schick, New Ventures BC; Shikhank Sharma, InBC Investment Corp.; Radwa Saad, Innovate BC; Tomica Divic, Innovate BC
Surprise Announcement: Capital Compass BC
To kick off the day, Sxwpilemaát Siyám (Chief Leanne Joe) of the Squamish Nation extended a warm welcome to all attendees, shedding light on the importance of ancestral lands and sharing insights into her unique identity and responsibilities as a hereditary chief. Her message served as a call to action, emphasizing the significance of reconciliation and fostering meaningful relationships between Indigenous peoples and the broader community. We were privileged to host the event took place on the traditional unceded territories of the Musqueam, Squamish, Mission, and Tsleil-Waututh Nations.
Innovate BC then unveiled Capital Compass BC, a new interactive data platform developed in partnership with Innovate BC, InBC, PacificCan, and New Ventures BC. Navigating B.C.'s capital and business ecosystem can be challenging, and this new tool aims to simplify the process. Capital Compass BC provides a one-stop solution for entrepreneurs, investors and other ecosystem players to access funding-related resources and connect with innovative BC businesses and startups.
The unveiling of Capital Compass BC marked a significant step toward streamlining the funding process for startups and entrepreneurs in the region. With this powerful tool, British Columbia continues to solidify its position as a global innovation leader, poised to address complex challenges and drive positive change.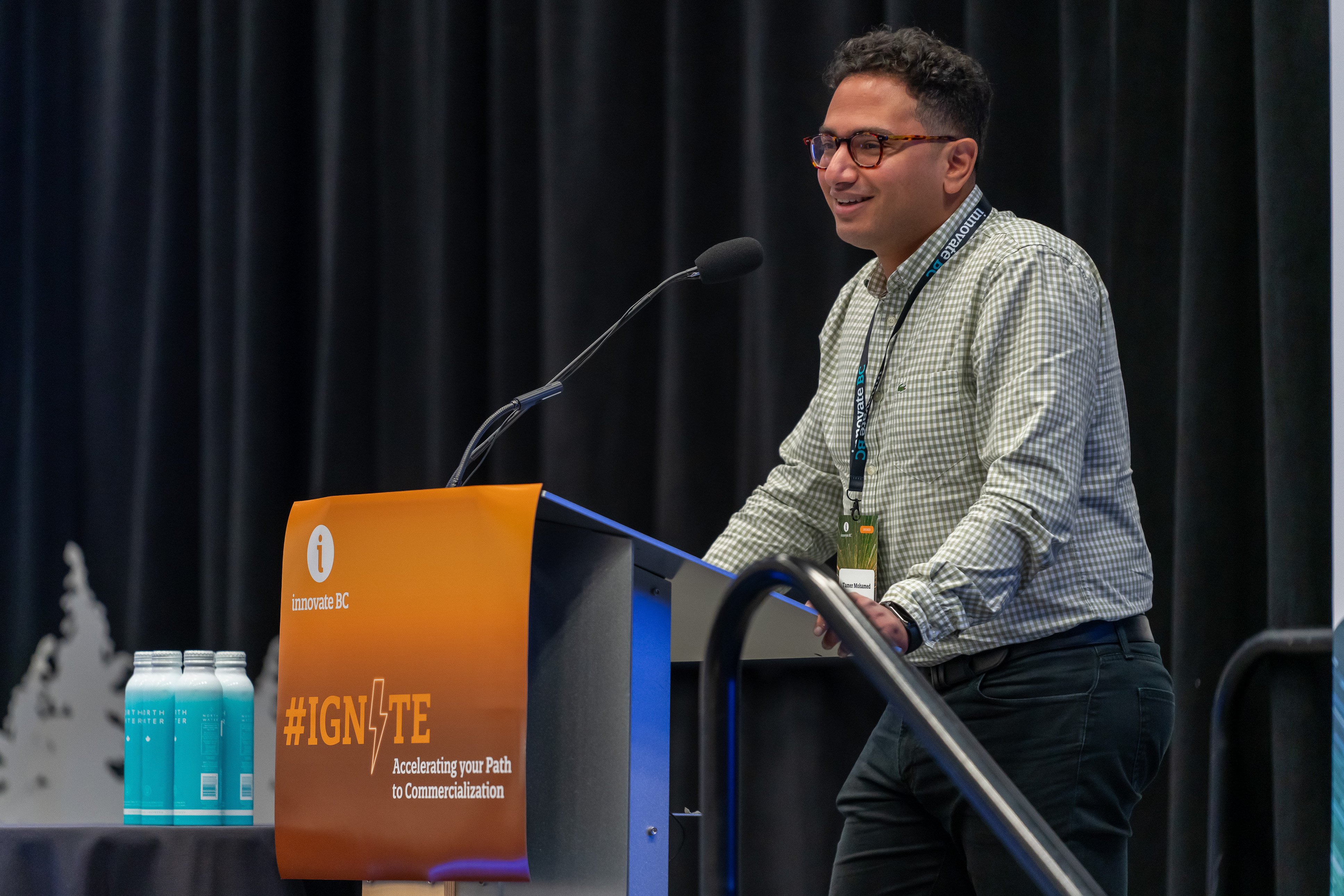 Tamer Mohamed, Aspect Biosystems
Keynote
Next, Innovate BC was thrilled to welcome Tamer Mohamed, Founder and CEO of Aspect Biosystems to the stage for a keynote. In the world of innovation and entrepreneurship, success stories often begin with a simple idea and a passionate team. The journey of Aspect Biosystems, a B.C. biotech company, embodies this spirit of innovation, determination, and collaboration. From humble beginnings to global partnerships worth billions, this is a story of how dreams can lead to ground-breaking achievements. Innovate BC was thrilled to support their journey through not only the Ignite program, but with hiring grants and mentorship support as well as through the New Ventures BC Competition, presented by Innovate BC.
From an early age Tamer knew that technology could solve some of the world's most pressing issues, from climate change to economic challenges. As Tamer's passion for science grew, so did his entrepreneurial spirit. He recognized that the true impact of scientific innovation lies in its application, and this led him to explore the world of entrepreneurship. Tamer's journey into entrepreneurship began with a focus on creating value and addressing real-world problems, which she believed was the essence of commerce.
"One way to move to market is to move to the real world. One of the biggest lessons I learned early on is to get out of the building to make connections, find the right partners, and actively contribute from the ecosystem."
The journey of Aspect Biosystems serves as an inspiring example of what determination, collaboration, and a passion for innovation can achieve. Their story reminds us that success in entrepreneurship is never guaranteed, but with the right team, mindset, and strategic partnerships, anything is possible. So, whether you're a geek, a nerd, or simply someone with a big idea, remember that your journey might just be the next inspirational story in the world of innovation.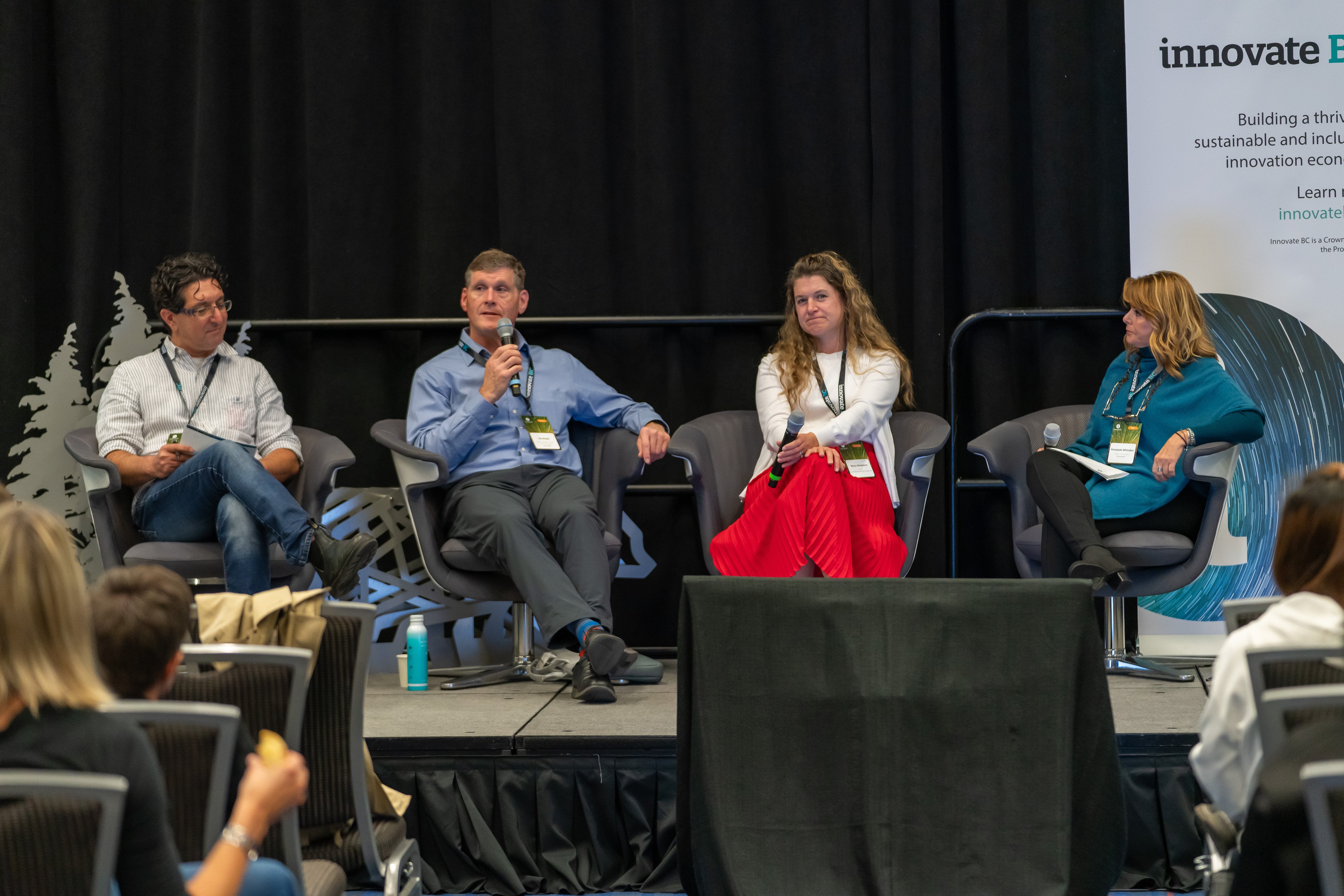 L to R: Udi Daon, Daanaa; Pat Brady, Genome BC; Maya Medeiros, Norton Rose Fulbright; Fernanda Whitaker, Innovate BC (Moderator)
Ignite Innovation Panel
In today's fast-paced business landscape, intellectual property (IP) and its commercialization play a pivotal role in driving innovation, securing competitive advantages, and fostering business growth. In this panel discussion, experts shared valuable insights into the world of IP, its significance, and successful strategies for IP commercialization.
Fernanda Whitaker began the conversation by emphasizing the growing recognition of the incredible value of a robust IP strategy among entrepreneurs, businesses, and even government entities. Governments at both federal and provincial levels are actively supporting innovation through IP strategies, with British Columbia's recently announced IP Strategy as a prime example.
Innovate BC is at the forefront of delivering these supports, collaborating with various partners, including the federal government, to accelerate the adoption of effective IP knowledge and capacity in the province. Connect with us to learn more about the IP support available.
Key Takeaways:
IP Is More Than Just Patents
When discussing intellectual property, many people immediately think of patents. However, IP encompasses a wide range of assets, including trademarks, copyrights, trade secrets, and more. Understanding this broader scope is essential for crafting a comprehensive IP strategy.
Align Your IP Strategy with Your Business Goals

Your IP strategy should not exist in a vacuum. It must serve the needs of your business. Whether you're focused on licensing, product development, or something else entirely, your IP strategy should be tailored to support your specific objectives.


Tap into Available Resources

Securing intellectual property can be a complex process, but there are resources available to support innovators. Organizations like Innovate BC offer funding, training, and materials to help individuals and businesses develop their IP strategies. Engage with your local innovation ecosystem. Connect with experienced individuals, join programs like Innovate BC's IP program, and reach out to experts for guidance. Collaboration and knowledge-sharing are essential for navigating the world of IP effectively.


Tailor Your IP Strategy to Your Business Stage
Consider your business's current stage when developing your IP strategy. Early-stage startups might focus on securing funding, while more established companies may prioritize protecting their existing IP assets.
Consider International Markets

If you're thinking about expanding internationally, be mindful of IP regulations in different countries. Leverage international treaties and prioritize protection in key markets to safeguard your innovations.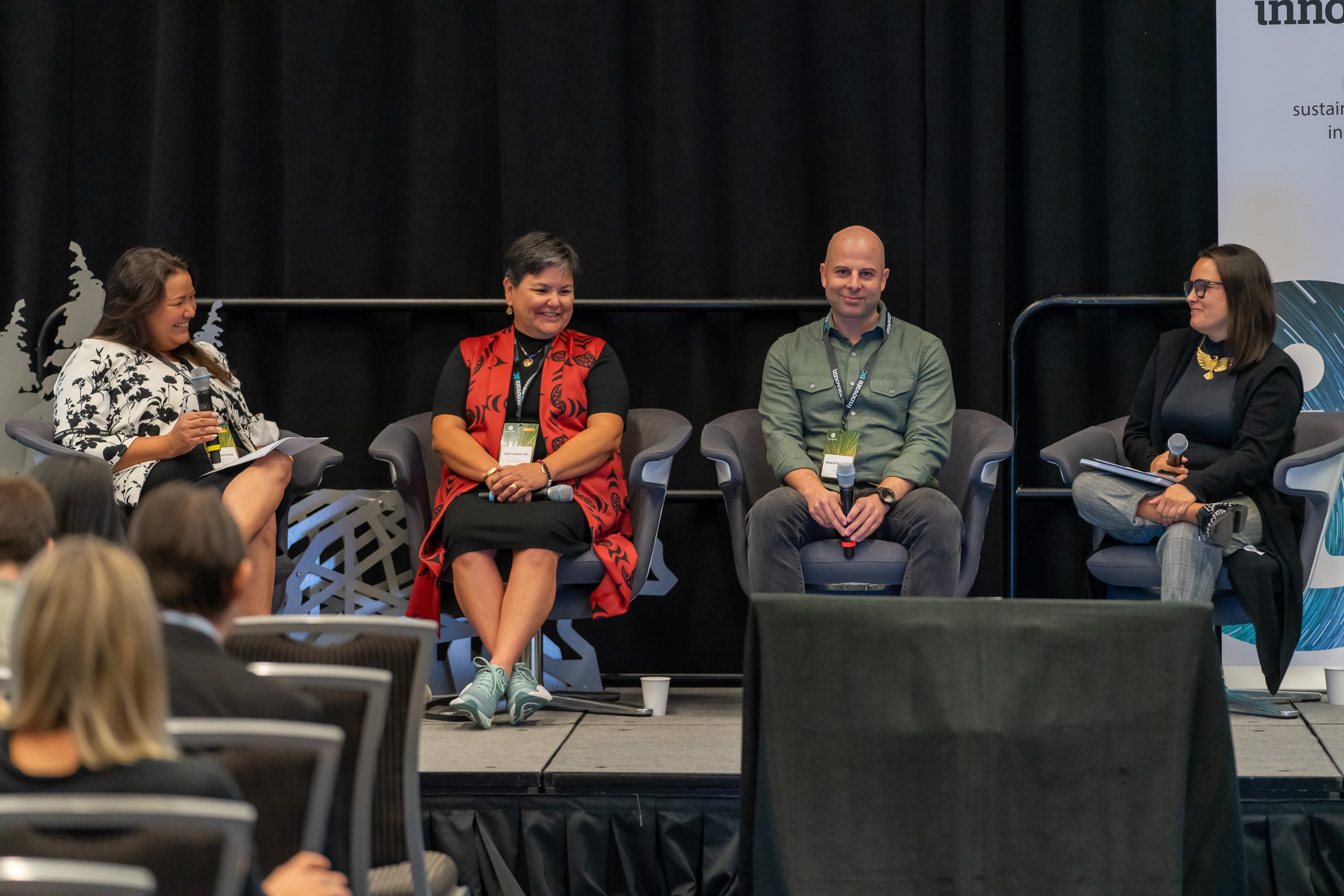 L to R: Candice Loring, Genome BC (Moderator); Sxwpilemaát Siyám (Chief Leanne Joe), Squamish Nation; Ryan St. Germaine, StGermaine Tech Labs; Carol Anne Hilton, Indigenomics Institute and the Global Centre of Indigenomics
Ignite Collaboration Panel
In recent years, British Columbia has witnessed significant growth in First Nations and Indigenous-led projects, spanning various sectors like clean energy, water technologies, forestry, natural resources, and housing. This growth represents a profound shift in economic development and innovation, driven by the passion, commitment, and unique perspectives of Indigenous entrepreneurs and leaders. This panel featured a conversation among distinguished individuals who share their insights on the factors contributing to this remarkable growth and how Indigenous definitions of success and innovation differ from mainstream approaches.
The conversation highlighted the transformative power of Indigenous-led innovation and economic development in British Columbia. By embracing a holistic and community-centric approach, Indigenous entrepreneurs are reshaping traditional notions of success and innovation. As these ideas continue to gain prominence, there is much to be learned and embraced by all, paving the way for a more inclusive and sustainable future for all living things.
Key Takeaways:
A Shift Away from the Status Quo

Chief Leanne Joe begins the discussion by highlighting how Indigenous communities are moving away from the status quo of traditional economic development. They are forging reciprocal relationships with the environment and focusing on capitalism, economic development, technology, and innovation that align with their values and worldviews. The removal of intergenerational impacts of colonization has opened up opportunities for Indigenous individuals to see themselves in new spaces, driving innovation and economic growth.
The Interconnectedness of All Living Things

The conversation shifts to the interconnectedness of all living things, emphasizing the importance of respecting and nurturing relationships with the environment, rather than extracting from it. Indigenous perspectives prioritize sustainable and reciprocal relationships, providing valuable lessons for non-Indigenous entrepreneurs. Caroline emphasizes the emerging visibility of Indigenous people in economic discussions and the shift towards inclusive structures and legal instruments, such as the United Nations Declaration on the Rights of Indigenous People (UNDRIP).
Defining Success Differently

Ryan sheds light on how Indigenous entrepreneurs often have different goals and priorities, not solely driven by financial gain. Success, for many, involves creating businesses that benefit their communities, allowing them to maintain their traditional way of life and build strong relationships. This unique approach challenges the conventional model of scaling and emphasizes the importance of diverse types of businesses that align with Indigenous values.
Community-Centric Innovation

The discussion reinforces the idea that Indigenous innovation is deeply rooted in community, accountability, and futurism. Success is measured not only in economic terms but also in terms of how innovations benefit humanity and the environment. Indigenous entrepreneurs emphasize the need for non-Indigenous individuals and organizations to learn from these concepts and embrace a more collective and responsible approach to innovation.
Advice for Non-Indigenous Entrepreneurs

Non-Indigenous entrepreneurs should start by understanding the values and long-term plans of the Indigenous nation they want to work with. Building a relationship on Indigenous terms, being curious, and letting the Indigenous community lead are crucial steps for success.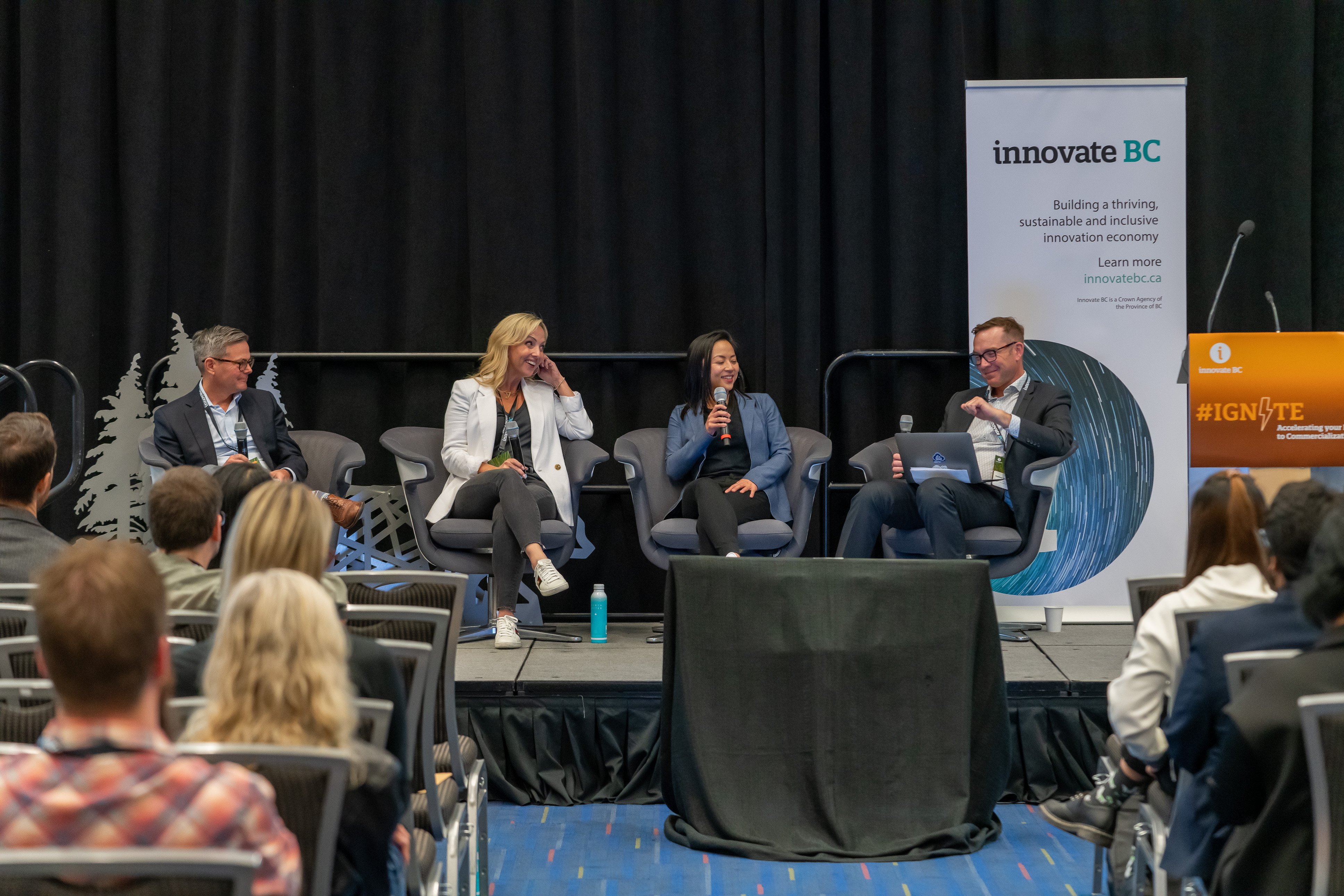 L to R: Andrew Hamilton, Vancouver Fraser Port Authority; Keri Phoenix, Vancouver Airport Authority; Jessica Yip, A&K Robotics; Nathan Nankivell, Innovate BC (Moderator)
Ignite Adoption Panel
This panel discussion highlighted the power of collaboration, proof of concepts, and local innovation in driving supply chain innovation. It was a lively discussion featuring experts from the Port of Vancouver and Vancouver Airport Authority, and a startup founder specializing in airport solutions. They shared insights into the port and airport environments, the complexities of innovation, and the barriers faced by startups entering this space.
Key Takeaways:
Collaboration is at the Heart of Innovation

One key takeaway from the discussion is the critical role collaboration plays in driving innovation. Both the Port of Vancouver and Vancouver International Airport (YVR) emphasize the importance of working together to find solutions to complex problems. YVR's Innovation Hub is a testament to their commitment to fostering collaboration. The hub acts as a catalyst for projects that address specific challenges within the airport's operations. By partnering with external companies and sharing data, YVR seeks to identify and implement innovative solutions. Similarly, the Port of Vancouver is actively seeking collaboration with other ports globally. Through participation in smart port conferences, they exchange experiences, challenges, and solutions with peers from around the world. This open sharing of knowledge enables all parties to learn and grow together.
De-risking Projects through Proof of Concepts (POCs)

One effective way to drive innovation while minimizing risks is through Proof of Concepts (POCs). Both YVR and the Port of Vancouver utilize POCs to validate the feasibility of new ideas before committing to full-scale projects. POCs serve as a crucial step in the innovation process. They allow organizations to test the waters, evaluate technologies, and identify potential hurdles. By starting small and gradually scaling up, they reduce the risk of large-scale failures and ensure that solutions align with operational needs.
Supporting Local Innovation

Supporting local innovation is another key focus. Both YVR and the Port of Vancouver recognize the value of partnering with local tech startups and businesses. These collaborations not only promote the growth of the local tech ecosystem but also provide solutions tailored to the specific needs of the region. Through programs like Innovate BC, organizations aim to create opportunities for local startups to work on projects that address real-world challenges. By bridging the gap between innovators and established entities, they drive innovation forward.
Championing Sustainability

Decarbonization and sustainability are top priorities for both YVR and the Port of Vancouver. They actively seek technologies that can help reduce their environmental footprint. For instance, YVR is exploring the use of IoT and clean tech solutions to gain better insights into terminal operations and enhance charging capacity using end-of-life batteries. The organizations are also preparing for the electrification of their operations, potentially embracing electric or hydrogen-powered aircraft and vehicles. A commitment to sustainability is not just a corporate responsibility; it's a necessity for a more sustainable future.
How Can Companies Get Involved?

If you're a company looking to bring innovative ideas or technologies to organizations like YVR or the Port of Vancouver, the first step is to reach out. Both entities have specific channels for engagement. For YVR, sending an email to innovationhub@yvr.ca is the recommended approach. For the Port of Vancouver, making contact through their representatives can help start the conversation. Additionally, staying informed about calls for proposals and areas of interest is crucial. Many organizations, like YVR, are actively looking for solutions to specific challenges and welcome proposals that align with their goals.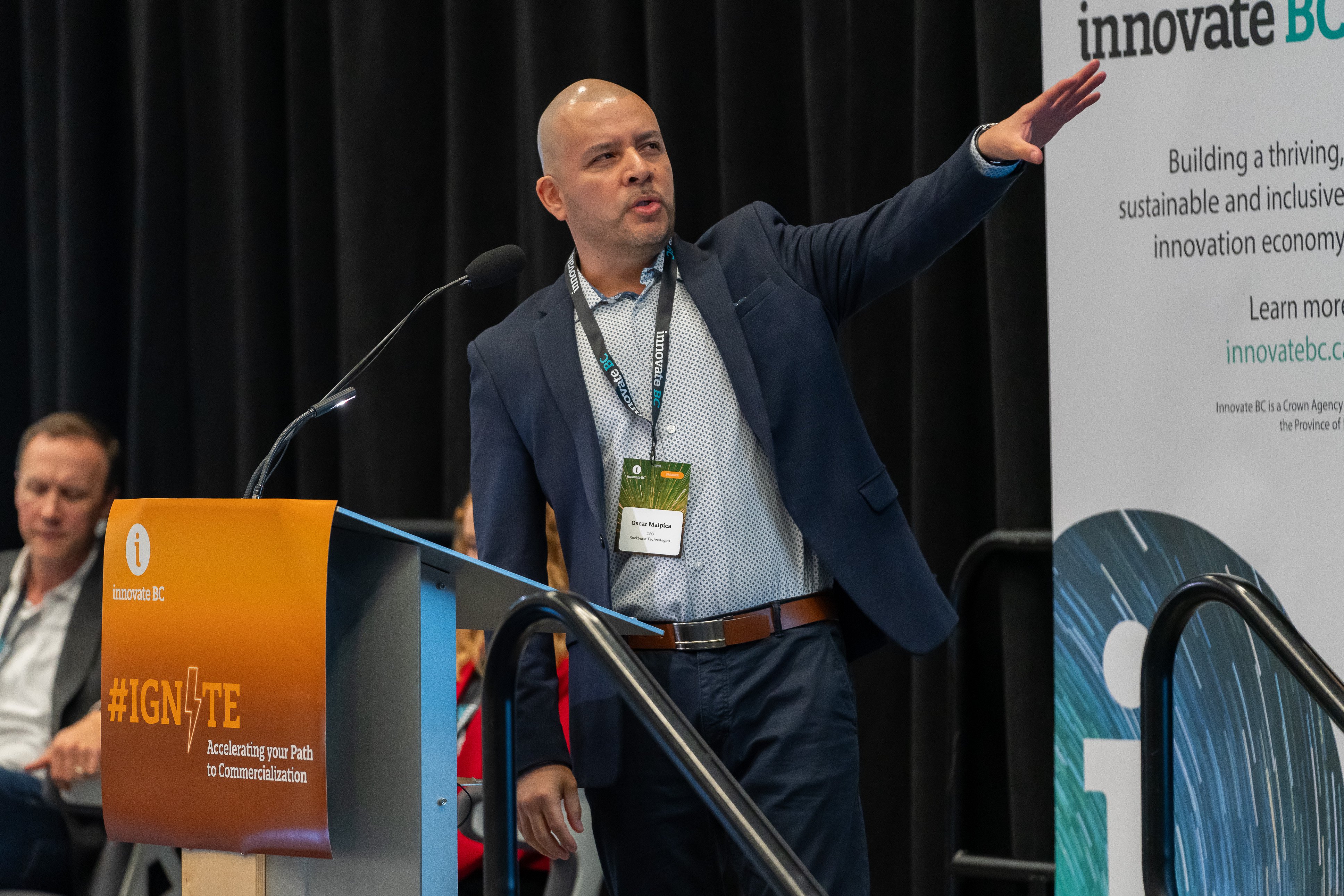 Oscar Malpica, Envisioning Labs & Rockburst Technologies
Pitch Event in partnership with InBC
Six ventures took the stage to pitch their ground-breaking solutions to address complex challenges impacting our world today. From cutting-edge industrial innovations to sustainable solutions, this event showcased B.C. innovation at its finest.

Meet the Companies:
James Hursthouse, Head of Business Development, LlamaZOO Interactive Inc.
Michelle Tappert, CEO, Hyperspectral Intelligence Inc.
Marc Apduhan, EIT, Innovation and Business Development Manager, Flash Forest
Oscar Malpica, Founder + CEO, Envisioning Labs & Rockburst Technologies
Omar Kassem, Co-Founder, Salish Elements Ltd.
Udi Daon, CEO, Daanaa Resolution
Meet the Investors:
Eric Bukovinsky, CFA, Partner at Yaletown Partners
Heather Tanaka, Investment Principal at InBC Investment Corp.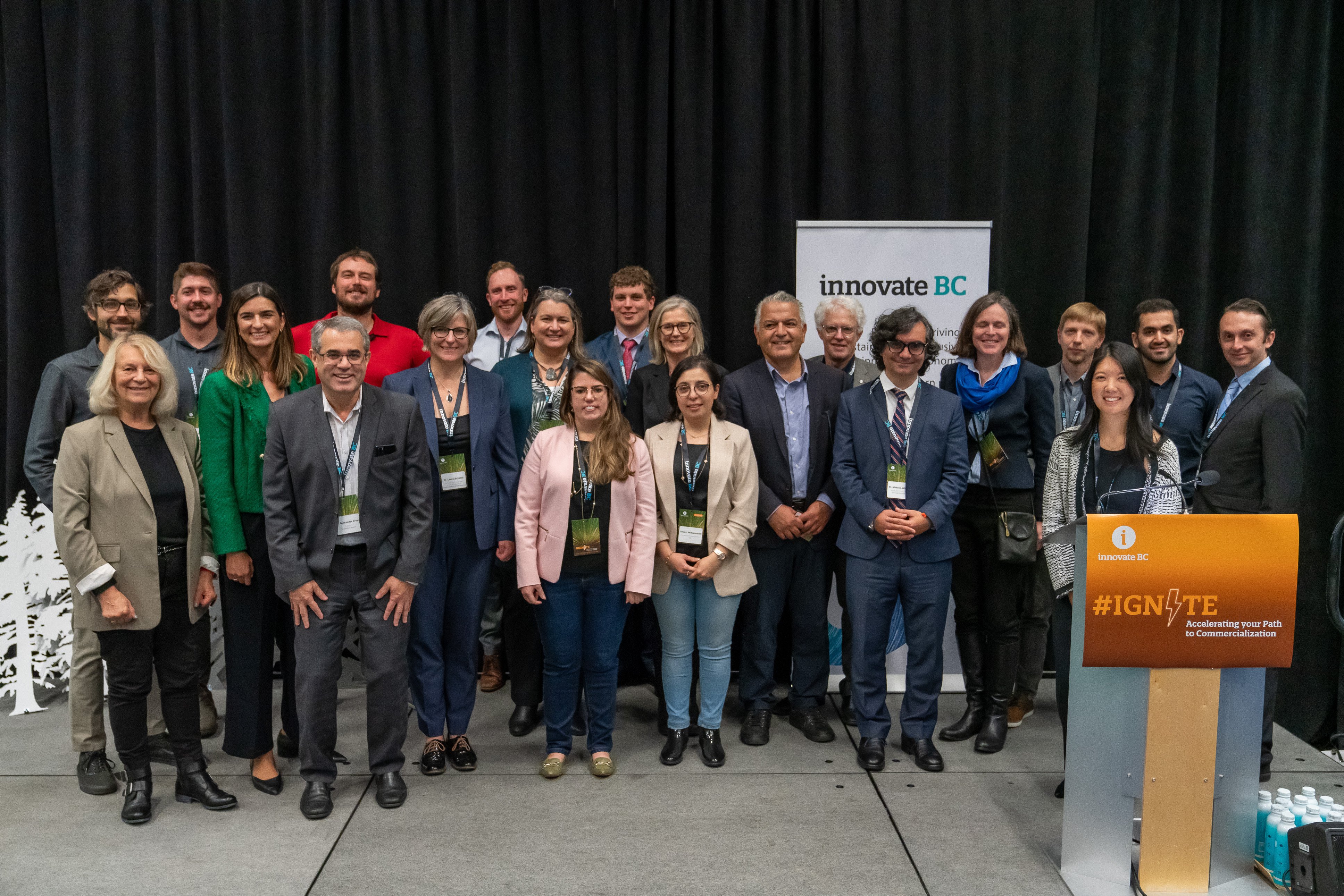 The 2023 Ignite awardees and award presenters
Ignite Awards
The event closed with an awards ceremony where Innovate BC awarded $1.365M to five B.C. research and development projects in natural resources and applied sciences that are improving lives for British Columbians. Specifically, this year's funding, through Innovate BC's Ignite program, is accelerating the commercialization of clean technology, advanced materials and manufacturing, and life science projects.
The successful projects were selected based on their promising commercial and technical viability as well as their ability to be market ready within three years. To be considered, projects must also address an industry problem with the potential for significant benefit to British Columbia and be implemented by a group of academic and industry members.
Read the full press release about the winning Ignite projects.
Each year Innovate BC's Ignite program selects research projects in the natural resources and applied sciences, awarding up to $300,000 per project. To date it has funded 46 projects for a total value of $12M.
It was an incredible day celebrating innovation and collaboration, nurturing future partnerships, and fostering conversations across sectors.
Congratulations to all the winners! And a huge thank you to our award presenters and all who attended.
Flip through photos from the event below. And become an Innovate BC Insider to be notified of upcoming events.