Building Momentum and Fostering Connections at Vancouver Startup Week 2023
Vancouver Startup Week (VSW) is a collective effort across the innovation ecosystem to foster innovation and support a vibrant startup community. This week-long event serves as a catalyst for fostering collaboration, showcasing groundbreaking ideas, and promoting the growth of Vancouver's thriving startup ecosystem.
Above all, VSW is a celebration of the entrepreneurial spirit that drives innovation and growth here in our province. It brings together people who are passionate about creating change, disrupting industries, and making a meaningful impact on society. The energy is contagious, inspiring attendees to think big and take bold steps towards their entrepreneurial goals.
A huge thank you to the VSW team and their volunteers for putting on this event and bringing the startup community together. It was amazing to see the massive turnout and enthusiasm from local entrepreneurs. This year, Innovate BC was proud to partner with VSW (back in-person for the first time since the pandemic) and serve as a Diamond Sponsor for the event, as well as host two sessions at BCIT's Tech Collider as part of its 2023 programming. We took a deep dive into intellectual property and the growing priority of (and value in) diversifying the workplace. Keep reading to learn what the key takeaways were.
Demystifying IP: Why You Need to be Prioritizing Intellectual Property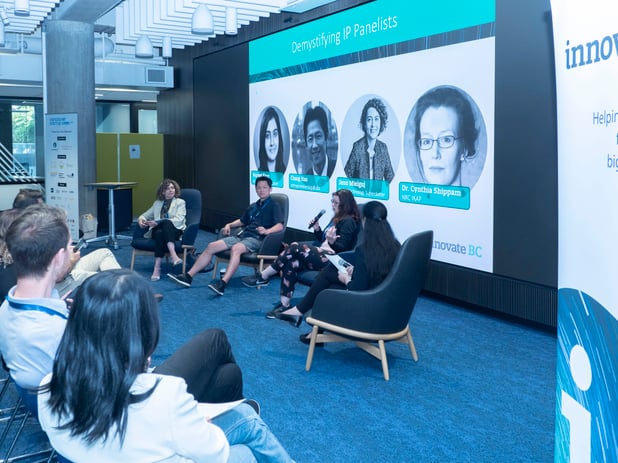 Panelists
In our knowledge-driven world, IP plays a crucial role in protecting and promoting innovation and creativity. However, misconceptions about intellectual property are abound. In this session our panelists aimed to dispel some of the common misconceptions surrounding intellectual property and demystify its complex landscape for early-stage entrepreneurs and companies.

Takeaway 1: IP is important for all companies.

"IP isn't only for the large players – it needs to be on the radar for startups. It's something that needs to be on your radar at all times." Jenn Mielguj
Intellectual property can have long-term value and contribute to the overall growth and success of a business. By protecting and managing IP assets, individuals and businesses can enhance their market position, attract investors, and generate additional revenue streams.

Takeaway 2: Start now.

"Immediately as you start your company, or as you start thinking about your company, you should be thinking: What's the IP? How am I going to protect it? Am I infringing on anyone else's IP?" – Chang Han
An intellectual property strategy is a valuable tool for startups to differentiate themselves from their competitors. By securing IP rights, startups can create a unique selling proposition that sets them apart in the market. This differentiation can attract customers, investors, and potential partners, helping the startup gain traction and build a strong brand.

Takeaway 3: Ask for help.

"Tap into your ecosystem. If you have SFU connections, reach out to Venture Labs. If you have UBC connections, get in touch with e@UBC. Neither? Innovate BC offers dedicated IP support." – Dr. Cynthia Shippam
By recognizing the significance of intellectual property and its nuances, we can foster a culture that respects and encourages creativity while striking a balance between protection and access to knowledge. Don't know where to start? Connect with us to learn more about the IP resources available to B.C. companies.
Prioritizing Inclusivity in Your Workplace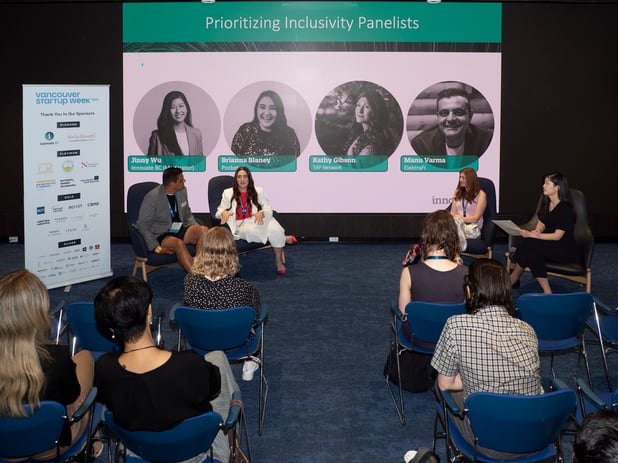 Panelists

Brianna Blaney, CEO & Co-Founder, Pocketed
Kathy Gibson, Senior Product Manager/Consultant, TAP Network
Manu Varma, COO, ElektraFi

Jinny Wu (Moderator), Director, Marketing + Communications, Innovate BC
Diversity refers to the range of differences that exist among people, including differences in race, gender, age, culture, and socioeconomic status. Inclusion, on the other hand, is the act of creating a workplace culture that values and respects diverse perspectives, experiences, and backgrounds. In this session, our panelists discussed the increasing need for companies to think about their inclusion strategy early and what steps they can take to make meaningful changes in their organizational culture.

Takeaway 1: DEI is imperative.

"Having a diverse team and an inclusive environment is a business imperative. It's not a nice-to-have. It's something you need to build a sustainable and high growth company." – Brianna Blaney
Embracing inclusivity allows businesses to tap into a wider range of talents, skills, perspectives, and experiences. By actively seeking diversity in the workforce, organizations can attract and retain top talent from different backgrounds, leading to a more innovative and competitive edge in the marketplace. When teams are composed of individuals with diverse backgrounds, identities, and perspectives, it fosters a culture of creativity and innovation. Diverse teams bring varied viewpoints, ideas, and problem-solving approaches, which can lead to more robust and comprehensive solutions. Inclusive work environments encourage open dialogue, collaboration, and the exchange of ideas, fueling innovation within the organization.

Takeaway 2: Evaluate your recruitment process.

"We have a tendency of getting in the cycle of hiring very similar people with similar backgrounds and education. Be really cautious about that" – Kathy Gibson
An inclusive employer ensures that people across all genders, ethnicities, ages, races, socioeconomic backgrounds, abilities, and sexual orientations have the same opportunity to apply and be considered for a position at their company. But it's more than that. Inclusive hiring also means connecting with, interviewing, and hiring a diverse range of individuals because you understand the value of different points of view.

Takeaway 3: Beyond a vanity metric.

"Baselining is awesome. But internally, how much exposure do underrepresented groups have to the senior leadership team? As you grow it's important to keep those connections." – Manu Varma
Inclusion of underrepresented groups in senior leadership ensures that diverse perspectives and experiences are considered in decision-making processes. Diversity of thought leads to better problem-solving, innovation, and decision outcomes. By having underrepresented individuals at the table, organizations can tap into a broader range of ideas, insights, and solutions that may have been overlooked otherwise. This helps in avoiding groupthink and ensures a more comprehensive understanding of the diverse needs and preferences of customers, employees, and stakeholders.
Diversity, equity, and inclusion are critical for success. By creating a diverse and inclusive workplace culture, companies can foster innovation, improve product development, and create higher employee engagement and satisfaction. While there are challenges to achieving this, it is important for companies to take proactive steps to address these issues and create a more equitable and inclusive workplace. Need some help? Check out our DEI Resource Hub made possible through our partnership with the TAP Network.

Are you an entrepreneur or SME looking for support? Become an Innovate BC Insider to be notified of new and ongoing support available for B.C. innovators.