Bringing Your Innovation to Market: Support from R&D to Scale Up
5 min read
February 22, 2023
Northern B.C. is one of the province's most active and distinct innovation regions, and you don't need to look further than the BC Natural Resources Forum to see why. Running for over twenty years, the multi-sector resource conference brings together a wide range of First Nations, government, and natural resources sector groups to connect, learn and find innovative solutions around the challenges and opportunities unique to the area.
Following this year's Forum, Innovate BC invited a group of Northern B.C.'s innovators and innovation ecosystem experts to share their stories at its event, 'Bringing Your Innovation to Market: Support from R&D to Scale Up', and discuss the opportunities they've found in strategic partnerships, the unique qualities of operating within Northern B.C., and what they're anticipating for the year ahead and beyond.
Hosted at the University of Northern British Columbia's (UNBC) Bentley Centre, the event featured two panels covering the innovation ecosystem and local success stories. Here are a few key takeaways.
Innovation Ecosystem Panelists
Northern Success Stories Panelists

Seek out and leverage strategic partnerships – especially early on.
"We all have small gaps in our services – one agency can't do everything – so it's really fundamental for us to work together, expose some of those gaps and see who can fill them." – Mary Mytting
Strategic partnerships give companies and researchers an advantage when it comes to solving problems that they lack the capacity or skillset for. This is especially true at the early stages of building out your business; whether it's figuring out how to create an effective business plan, answering legal questions, or discovering funding opportunities, there's someone out there who can lend their support.
Jordan Hammond of Northern Development Initiative Trust says that some of the more common challenges they see for developing small to mid-sized businesses is internal capacity (human resources) and foundational business acumen (marketing and business planning).
But how do you find those partnerships to fill those gaps? Dr. Hossein Kazemian, who is leading a team at UNBC to formulate a renewable and fully biodegradable hybrid packaging solution, explains that it can be as simple as initiating a conversation. "Just reach out. You are richer than you think you are [when it comes to partnership and funding opportunities], so check all avenues around you where there are resources to take advantage of, because there are a lot."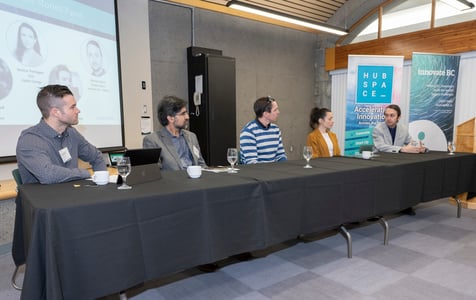 Stay aligned with the problem you're solving
.
"When you look at your target customer, what do they need and want, what do they like about your technology to actually be willing to invest in it?" – Shannon Freeman
This is a volatile time for technology and innovation, and as companies continue to face challenges economically, it's vital that your focus remains on understanding and addressing the problem that you're solving for your customers.
That focus is key, and as Owen Miller, President of Deadwood Innovations explains, "Being in the heart of the problem allows you to stay aligned with the solution that you're offering." Deadwood Innovations transforms trees damaged by pine beetle activity and other elements into value-added engineered wood products.
"Even as your technology evolves as you grow, you can't lose sight of continuing to solve that problem – at the industry level, at the business unit level, and at the technical level."
Adding to that, Jessica Verhagen, CEO of Hydra Energy, the first company to deliver a hydrogen-converted, heavy-duty truck to a paying fleet customer, emphasized the importance of staying relevant with those problems and adapting your solutions where needed. "As we learn more about our customers, we learn more about their problems and begin to understand that those problems will eventually change and expand."
To help you navigate those changes and where you fit into your ecosystem, Will Cadell, CEO at SparkGeo says that you need to sometimes take a step back and look for signals in the market that can guide you. "Look for broader trends in the market that can start pointing you in the right direction. You have to be able to zoom in and zoom out, looking at the precise problem, what your organization is doing about it, and where you fit into the entire ecosystem."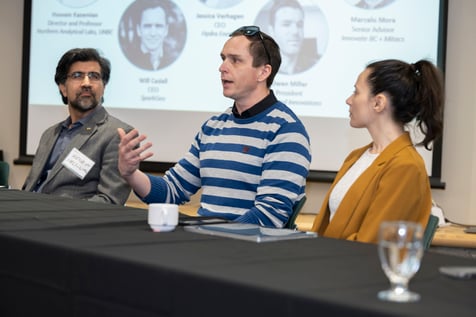 Don't count out Northern B

.

C

.

(or other non-urban regions) when it comes to innovation and technology hubs.
Innovation is happening everywhere across our province, and there's nowhere where that's more apparent than in Northern B.C. – especially in communities like Prince George.
Whether it's access to resource-based industries that centralize within the region, connection to new talent coming out of schools like UNBC, or an attraction to its exciting outdoor recreation lifestyle, Prince George is proving that you don't have to call a major city hub home to be a big player in tech and innovation.
For SparkGeo, which provides geospatial expertise to tech companies and operates entirely remotely, Prince George has offered a level of connectivity and quality of life that has suited its team members that reside there well.
"You should be able to live for your lifestyle, not your livelihood," says Will Cadell, who enjoys the region's quality of life, including its skiing and biking opportunities, but adds that the cost of living and quieter environment are draws for talent looking for something more rural.
At the Center of Technology and Aging in the North, which has been operating in the region for two years, Academic Director Shannon Freeman has seen a significant amount of interest from age-tech companies towards the region because of its increasing viability and sizable market potential.
And as highlighted by Hilary Travis of Foresight Canada, which is focussed on helping Canada become the first G7 country in the world to reach net zero, there's an increasingly robust clean-tech community emerging out of Prince George with 70 currently in operation there – and an eagerness to grow it even further through building stronger connections to each other as well as to new funding and resource opportunities. "There's a lot of really interesting innovation happening here – within resources, especially - and by building out our networks and working together, investors can have more access to companies and companies can have access investor opportunities and different funding models."
----
Are you an innovator, entrepreneur or SME looking to bring your innovation to market? Make sure to check out Innovate BC's programs like BC Fast and Ignite that are available to provide support.